This Web Site Is Brought To You By
AND

ARTIFACTS
If you have any Fillmore East memorabilia such as ticket stubs, programs, photos, why not share it with the world? Send your info to: webmaster@fillmore-east.com.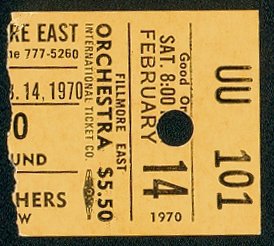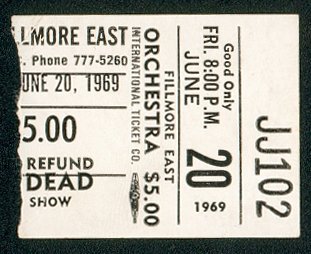 Those stubs came from Alan Richman, currently residing
in Snowmass, Colorado. He saw FE show from 69-71,including Airplane, Hendrix 12/31/69I have a bunch of Fillmore East ticket stubs at my Grateful Dead Ticket
Stubs, Passes, and Laminates Web site. hhttp://www.psilo.com/dead

http://www.psilo.com/dead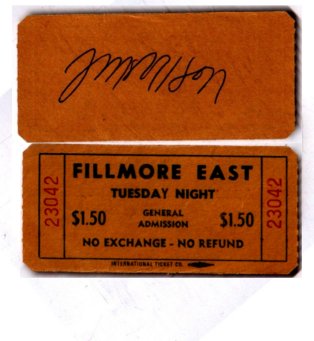 Jim Morrison Autograph Ticket Stub
Courtesy Michael Simons
The story behind it is that a fan named Perry , from Plainfield, NJ was in a
band that played the Fillmore East on Tuesday Nights. He met Jim before the
Doors show at the Fillmore and had Jim sign the back of the ticket stub.
About 2 years ago, Perry was in a bind and sold the ticket to me.